July 22 – September 10
Opening Friday July 22
5 – 8pm

 Open Friday, Saturday, Sundays  12–5pm
PAMELA BENHAM and CHARLENE BROUDY
Please join us for our Show:
Paintings by Pamela Benham and Charlene Broudy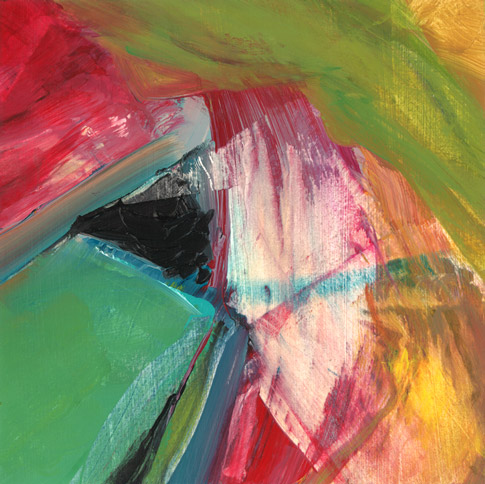 Pamela Benham Acrylic on Paper 10 x 10″
I paint now without needing to know where I'm going. I begin with no plan, no sketches, no preconception. I look at the colors laid out on my palettes and feel an inclination toward one, a leaning, an attraction – and it begins. A mark is made, and the next in relation to the first, and so forth and so on.
This method is both quiet and fervent, creative and destructive. I apply layers and wipe them off until I am moved into that intuitive nonverbal flow. In this state, I work from a vocabulary honed from years of painting from nature and studying others' works. Color and tone, line and shape, edges and paint, thick and thin form compositions in 2D and 3D space. And then when the painting's all done, like Agnes Martin, I ask my brain, 'Well – what do you think?'
---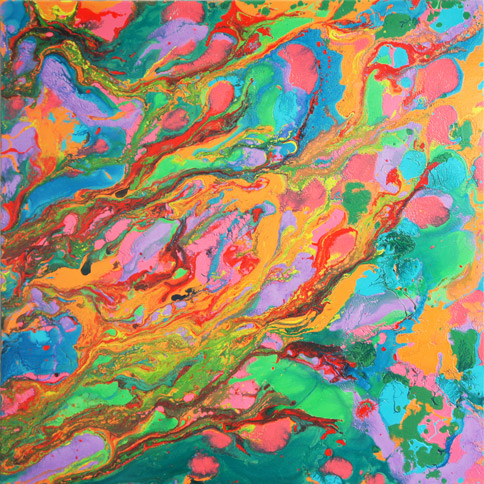 Charlene Broudy Acrylic on Canvas 12 x 12′
Charlene Broudy, born in 1952, grew up in California with year-long interludes in Australia. In the 70's, she traveled, studied and painted in Europe, spending 3 years in London in the lively design environment of The Architectural Association School of Architecture and earning a degree in Art & Design. She returned to California and freelanced as a graphic designer in San Francisco and Santa Barbara.
For the next 2 decades, Charlene continued developing as a multi-faceted artist, designing fabrics, logos, brochures, advertising and books.
Charlene created hundreds of works of art in her studio at Xandari Resort for both resorts – paintings for all the villas and main buildings, mosaic walls and sculptures for outdoor areas, plus tapestries (see www.xandari.com). Xandari was selected by Condé Nast Traveler in their list of the "Fifteen Best Resort Hotels in Central and South America," second on the list after The Four Seasons Uruguay.
In 2015, Charlene established GraySpace Gallery in Santa Barbara's Funk Zone to showcase contemporary abstract art, including her own work.