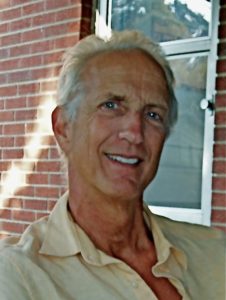 STEVE GILBAR
Steven Gilbar, the force behind Santa Barbara's acclaimed Speaking of Stories, has applied his creative talents to collage over the past decade. He credits the architect Richard Meier and the pioneering work of German collagist Kurt Schwitters for his early influence. Gilbar's work is characterized by strong compositional elements, subtle textures and an ever-changing, improvisational approach that brings in acrylic, oil pastels and ink. This will be the largest display to date of his work, which has appeared in numerous group exhibitions.
His work has been exhibited in such diverse venues as the Faulkner Gallery, Santa Barbara Tennis Club, Palm Loft Gallery, Arts Fund Gallery, Art From Scrap Gallery, Porch Santa Barbara,  Cabrillo Pavilion Arts Center, Gallery 113, and Step One Gallery.
---
ANGELA HOLLAND
Angela Holland is a mixed-media collage artist living in Santa Barbara, California. A former college English teacher and semi-retired psychotherapist, Angela has had a lifelong passion for abstract art, which has found expression in recent years with a vibrant studio practice informed by numerous classes and workshops with inspiring artists.
The Daily Muse (elusivemu.se) featured an exclusive interview with Angela in March 2015. Kolaj Magazine included her in their Collage Artist Trading Cards, Pack 5 and published a large mixed media piece, "The Happy Child," in their Exhibition in Print, Issue 14.
Angela is represented by Nisa Touchon Fine Art in Santa Fe, New Mexico. Her work is featured in their current exhibition "Small is the New Big," running until June 15th. An upcoming show, "Layers," will present more new work, (along with that of Karen Zazon and Marilyn McRae), at the SB Tennis Club in November, 2016.
ARTIST STATEMENT
My collages are made by layering found papers in an intuitive manner. In the same way that our brains seek to find pattern in randomness, I challenge myself to resolve and balance the disparate elements within a collage that I find delightful in and of themselves. These elements include bold line, broken text and asemic writing, alongside various patterns and shapes rich in color and texture that serve as counterpoint.
I find that working on several collages at once (with good music turned up), helps me bypass the rational mind and play around in the unconscious, where judgment and time and place tend to disappear. The challenge for me in this process is more often one of seeing, rather than doing. And I don't look for meanings or messages in the work either. If others do, that's great! I simply enjoy exploring the imaginary realm and my hope is that my art helps to illuminate the beauty and wonder to be found within the apparent turmoil.