January 8 – February 28
Opening Friday January 8
5 – 8pm

 Open Friday, Saturday, Sundays  12–5pm
Abstractions: 2 Women Artists
Please join us for our Show, Abstractions: 2 Women Artists • 2 Palettes, featuring abstract paintings by Dahlia Riley and Peggy Ferris.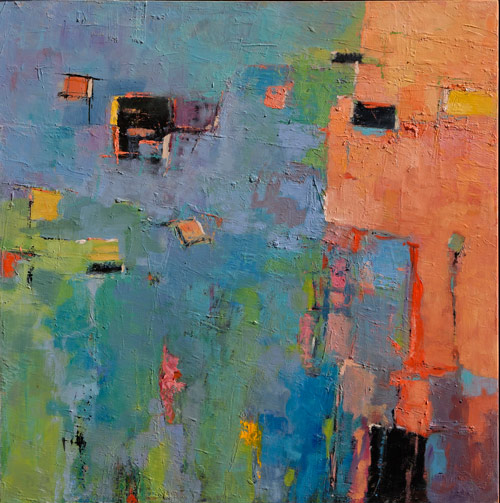 Out of the Blue by Dahlia Riley
An abstract painting to me is a pure expression of color and form, much like a musical melody you can hear and hum, with no words – just tones and rhythm. It is not meant to describe a scene, a thing, a thought or a message. It simply plays color and rhythm in a visual melody that words cannot describe. When I envision a painting, I see the initial colors. Form evolves to serve the colors, which continue to evolve to serve emerging forms; it's a dialog, an effort to achieve some happy balance of the two.
---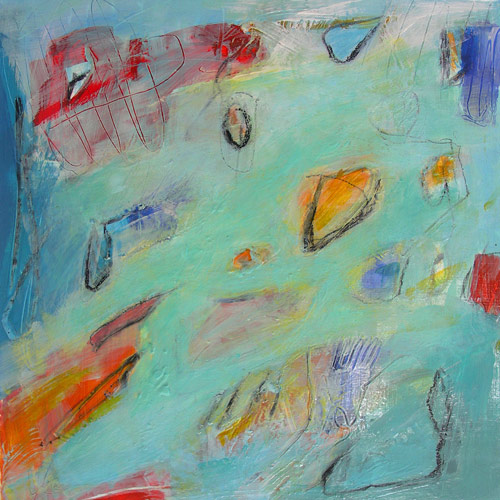 Drifter#1 by Peggy Ferris
Mixed Bag is about peering into the psychic satchel of our souls and seeing what is there. What we are carrying around with us in the form of things, thoughts, impulses… hopes, dreams and wishes. Much of what we find is random. Passing thoughts, things fixated on for a moment or two, perhaps a passing fancy. Mixed Bag is the unwilled ongoing slideshow of objects and emotions that move us forward on an unconscious path towards some sense of meaning, completion, fulfillment, or actualization.
Photos of the January – February Show Opening