February 3 — March 19
Opening Friday February 3
5 – 8pm

 Open Friday, Saturday, Sundays  12–5pm
SUSAN BASS
Please join us for our Show:
Embodied Alchemy: Rotating Creation – Abstract Sculptures and Mixed Media Paintings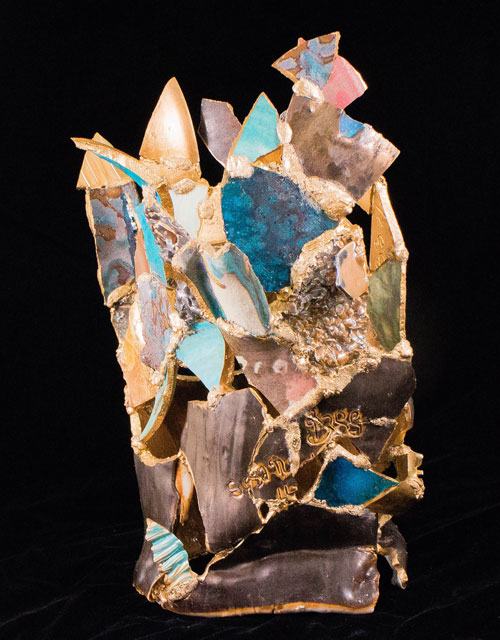 The Crown, Abstract Sculpture, 21x11″
ARTIST STATEMENT
The nature of ceramics, as material and process, informs my artistic practice. The interplay between opposite qualities, such as fragility versus strength, solid versus impermanent, or fragmented versus complete, define the underlying qualities of my work.
Because of porcelain's enigmatic physical attributes, it is difficult to execute to completion. I appreciate the challenge put forward by the duality of the material. The interplay between stability and instability inherently forces a balancing act between juxtapositions, made manifest and permanent through fire. From fragmented beginnings, I work to restore an ordered completeness bringing other materials and methods into my work, such as metals and paint. Simultaneously, by emphasizing the gaps in the ceramic form, I am questioning the formal idea of what can be seen as finished. In my work outside of these discrete ceramic pieces, I repurpose discarded and broken fragments by using them as starting points for sculptures and mixed media paintings. Through this practice, I am pointing to the endless potential of transformation in the material itself.
My most recent sculptures represent my struggle to unify ceramics and metallurgy. While I have developed glazing to resemble gold and burnished bronze on my ceramic work, I have a greater interest in exploiting the properties that allow both materials to solidify from liquid state by fire.
In my paintings I seek to work ceramic remnants, hardened by firing, with the wet medium of paint. The results are large scale paintings of unusual depth with color commonly unattainable in ceramics. The weight of the clay looming over the seeming weightlessness of the painted surface portends the potential for sudden change into a fixed medium. Adding stray graffiti overlays a transitional theme across the permanence of the ceramic elements, further developing the dichotomy converging from my work.​
Photos from the Opening